Cursa ce a avut loc sâmbătă  pe circuitul citadin de 14 viraje, cu o lungime de 1.93 km, din capitala Franței, se anunța a fi una interesantă, deoarece, la puțin timp după calificări, polemenul provizoriu Pascal Wehrlein (foto) , împreună cu coechipierul său de la Mahindra, Jerome D'Ambrosio au fost descalificați din cauza nerespectării presiunii minime din cauciucuri(1.48-1.56 bari , minimul fiind de 1,60 bari).Astfel, prima linie a grilei de start era o linie Nissan eDams , cu Oliver Rowland în Pole Position și Sebastien Buemi pe locul 2.Top 3 ul era completat de Robin Frijins(Virgin).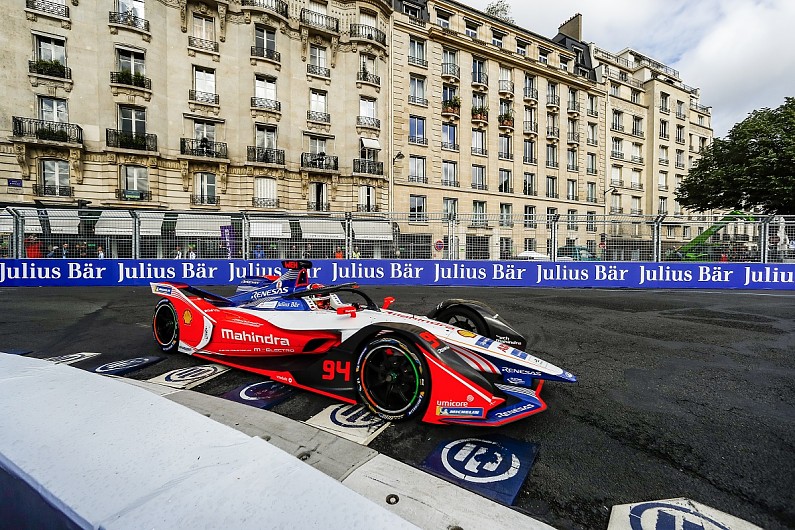 Cursa a început sub safety car din cauza pistei umede, ploaia începând, încet-încet, să-și refacă apariția pe circuitul parizian iar lucrurile au început să scape de sub control atunci când liderul cursei a blocat cauciucurile în virajul 10 și a ajuns în parapet.Buemi a ajuns lider,însă Frijins îi sufla în ceafă în fiecare tur,așteptând oportnitatea perfectă de a folosi Attack Mode și de a-l întrece.Frijins a primit "gratuit" poziția de lider după ce Buemi s-a dus la boxe după ce în virajul 8, i s- a spart un cauciuc.
După ce ploaia a început să se întețească, a apărut și primul Full Course Yellow. Frijins era urmat de Andre Loterrer(DS Techeetah) și Felipe Massa(Venturi).Steagul Verde a fost fluturat cu doar 23 de minute rămase , iar Tom Dillman s-a retras și el din cauza avriilor severe.Ploua "cu găleata", iar asta s-a văzut în comportamentul piloților:Sam Bird a ieșit larg în virajul 3, iar, tot în același viraj, Oliver Rowland l-a scos din cursă pe Alexander Sims, iar,mai târziu, Felipe Massa a pierdut controlul mașinii, iar asta l- a costat mai multe poziții .
Cu doar 10 minute rămase din cursă, Eduardo Mortara a făcut contact cu monopostul lui Alex Lynn, amândoi fiind nevoiți să se retragă din cursă. Incidentul a cauzat ieșirea pe circuit a mașinii de siguranță ,iar, când a fost fluturat steagul verde, mai erau doar 2 minute până se intra în ultimul tur al cursei.
După ce D'Ambrosio a ajuns de pe locul  21 pe grilă până pe locul 8, acesta a ieșit larg în virajul 3 și a terminat,astfel, cursa, pe locul 17.
Frijins și-a apărat, în mod impecabil, poziția de lider și a cîștigat cursa, podiumul fiind completat de Andre Lotterer și Daniel Abt(ABT Sport Audi Schaefller).Clasamentul final îl aveți aici:
POS           PILOT             ECHIPĂ              TURURI     INTERVAL
1             Robin Frijns     Virgin Audi                 32                  47m50.510s
2          André Lotterer   DS Techeetah             32                    1.373s
3             Daniel Abt      Audi Sport ABT            32                    3.175s
4       Lucas di Grassi     Audi Sport ABT           32                     3.666s
5     Maximilian Gunther       Dragon                  32                     5.456s
6      Jean-Éric Vergne    DS Techeetah             32                    6.694s
7    António Félix da Costa  BMW I Racing         32                   7.238s
8        Gary Paffett                 HWA                      32                  7.901s
9         Felipe Massa           Venturi                     32                   10.522s
10    Pascal Wehrlein           Mahindra                32                   10.998s
11             Sam Bird              Virgin Audi             32                   11.488s
12       Oliver Rowland        Nissan e.dams         32                    19.451s
13     José María López              Dragon             32                    24.023s
14         Oliver Turvey                     NIO               32                 1m22.226s
15        Sébastien Buemi      Nissan e.dams         31                    1 Lap
16            Mitch Evans                  Jaguar             31                    1 Lap
17   Jérôme d'Ambrosio              Mahindra           29                RETRAS
Retrași:Alex Lynn(Jaguar), Eduardo Mortara(Venturi), Stoffel Vandoorne(HWA),Alexander Sims(BMW I Racing),Tom Dillmann(NIO).
PHOTOCREDIT:AutocarIndia
Nu pierdeti ultimele stiri din lumea uimitoare a motorsportului cu aplicatie GP24.
Don't miss out on the latest news from the world of Motorsports with the GP24 App.
Cu noua aplicatie GP24 primiti ultimele stiri direct pe dispozitivul mobil, 100% gratuit / Nu este necesara inregistrarea.
With the New GP24 App you receive the latest news direct on your mobile device, 100% free / No need to register.
Pentru/For Android: Faceti clic aici / Click here.
Pentru/For iOS: Faceti clic aici / Click here.
Latest posts by Amber van Nunen
(see all)