LMP1
Cele două prototipuri TOYOTA TS050 HYBRID ( #7 în fața #8) vor lua startul ediței a 87-a a curse de 24 de ore de Le Mans din prima linie, după ce mașina cu numărul 7 ,careia i -a fost schimbat monococul după accidentul din antrenamentele de miercuri cu prototipul Nr 31 DragonSpeed LMP2 ,pilotat de Ricardo Gonzalez, a luat pole-ul cu un timp de 3:15.497s , timp mai bun ca mașina soră #8 cu doar patru zecimi de secundă.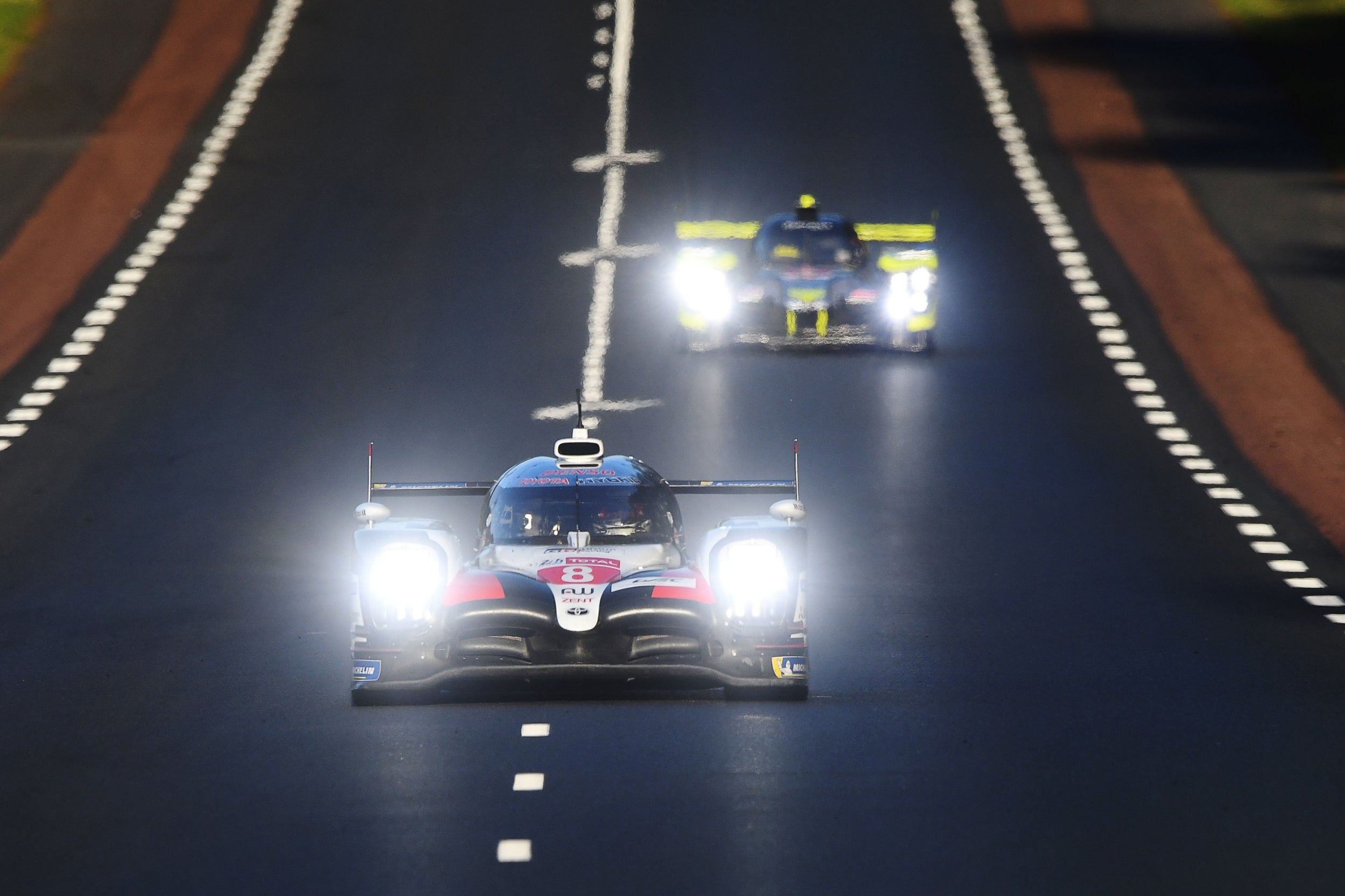 La fel ca în noaptea de miercuri, Rebellion a fost departe de succes și astăzi, cu prototipul cu numărul trei pilotat de Thomas Laurent oprindu-se după virajul Mulsanne după ce a avut o scurgere majoră de fluide și ulei. Acest incident a cauzat oprirea primei sesiuni de calificări pentru 20 de minute, iar în final, și Rebellionul #1 a avut o cedare de motor. Însă, mașina cu numărul 3 a fost reparată înainte de finalul calificărilor, iar echipajul a obținut locul al patrulea, separând echipajele SMP Racing. Totuși, mai este de remarcat faptul că privatee-urile au reușit să obțină un timp cu sub o secundă în spatele celor 2 Toyote, lucru care, după parerea mea, le dă speranțe tuturor fanilor ce vor să vadă o schimbare la clasa regină.
LMP2
Ei bine, daca în LMP1 au existat câteva speranțe, la clasa P2 nu s-a întâmplat mare lucru. Prototipul Graff cu numărul 39 a fost, inițial în pole la clasa sa și pe locul 9 la general cu un timp de 3:25.073s, însă, mai târziu,toți timpii lor au fost anulați, pentru ca mașina nu a fost oprită la podul FIA pentru o verificare a greutății.
Astfel, în final, pole-ul a fost obținut de echipajul TDS Racing cu numărul 28, topul 3 fiind completat de Dragonspeed #31 și de Signatech Alpine #36.
GTE-PRO
La clasa GTE PRO, a fost o batalie foarte intensă pentru pole position, acesta fiind obțiunit chiar de mașina Aston Martin Vantage cu numărul 95 a echipei de uzină, ea fiind urmată de Fordul cu numărul 67 și ,în mod surprinzător, de Corvette ul cu numărul 63, al cărui pilot , Antonio Garcia , a reușit un timp mai bun în ultimele minute decât Porschele cu numărul 62.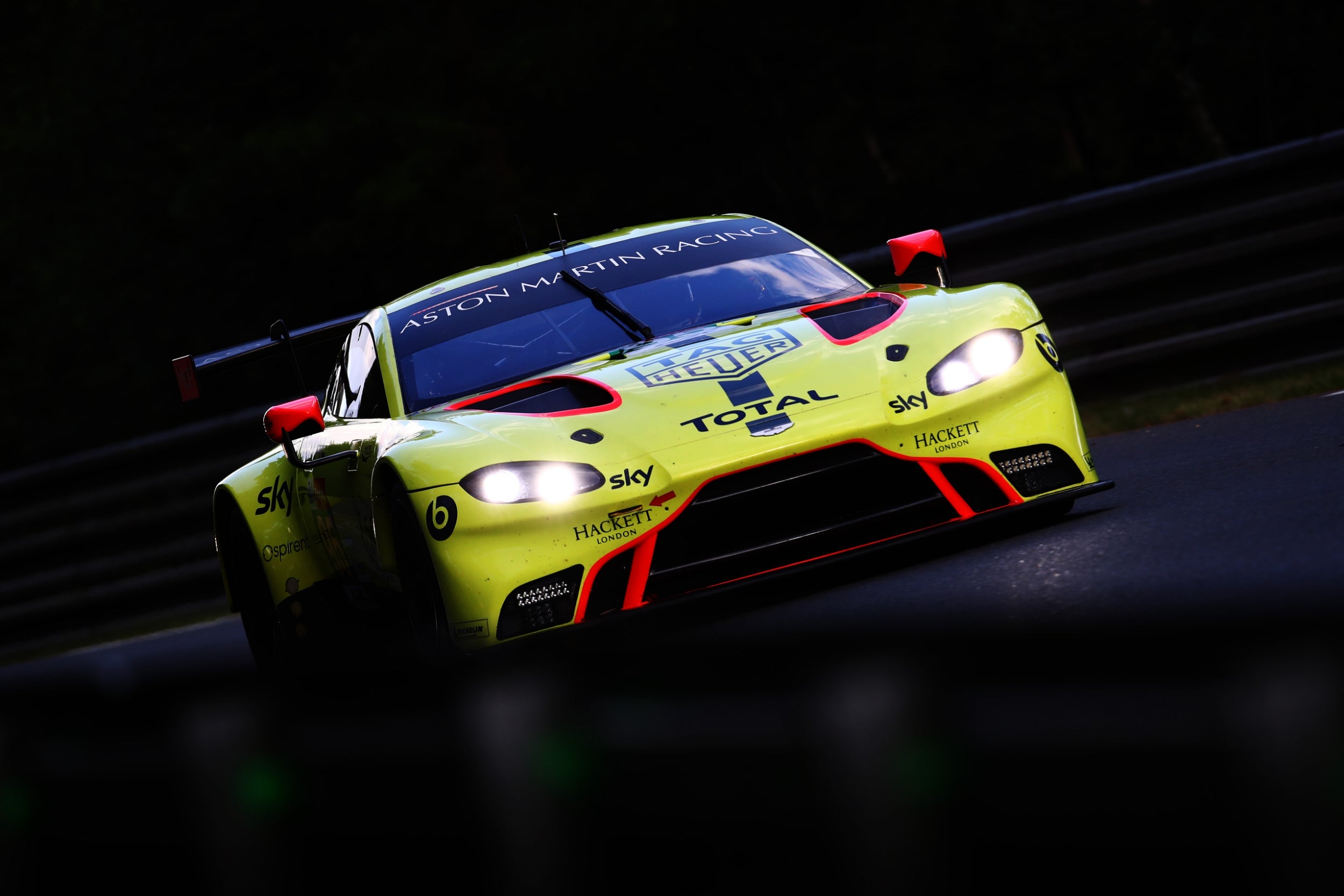 GTE-AM
La GTE-AM situația a fost clară de la început : sunt 3 mașini Porsche pe primele 3 poziții, primele două aparținând echipei Dempsey-Proton Racing, iar cealaltă aparținând celor de la Gulf Racing.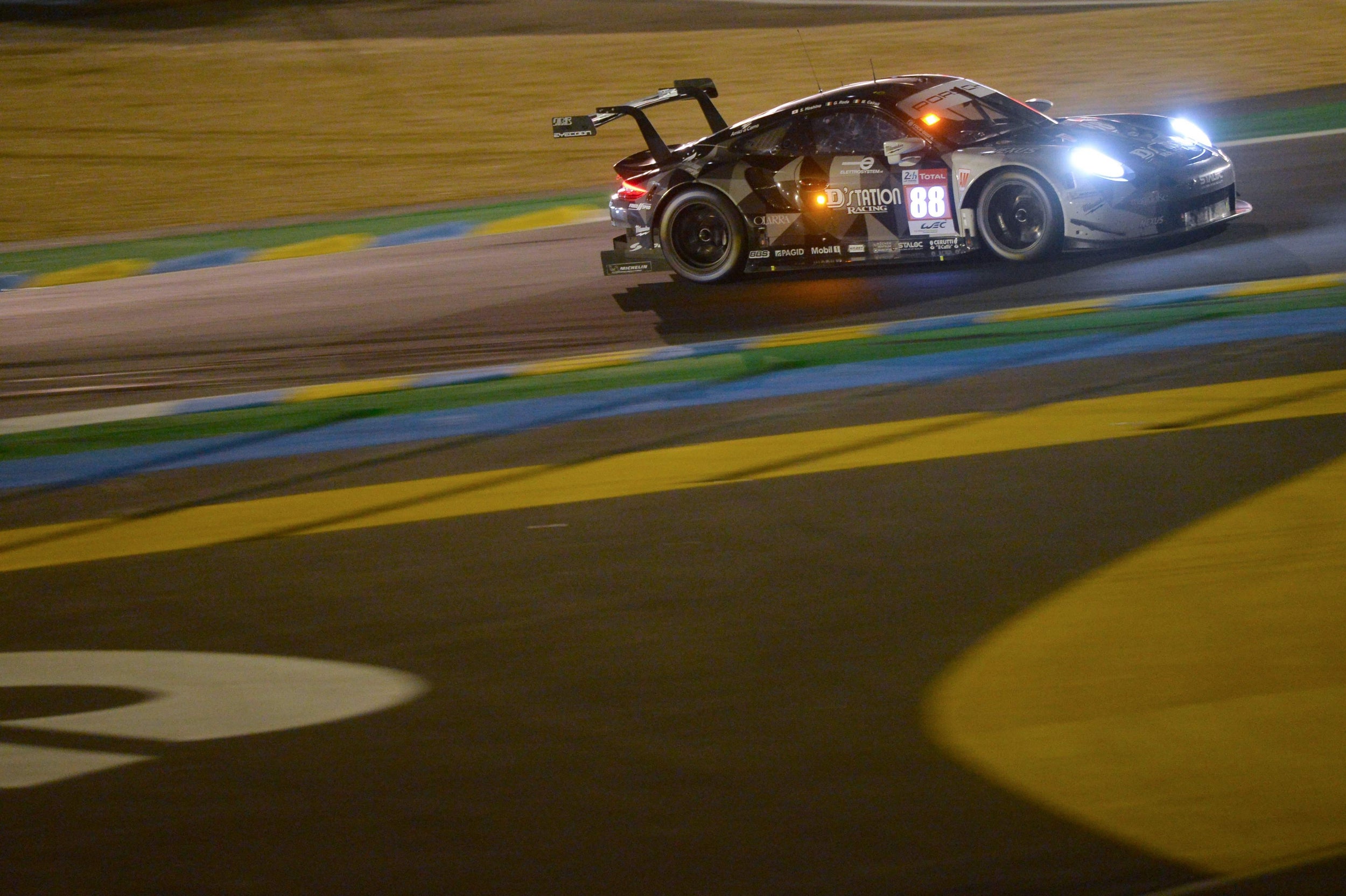 Însă , aici apare o chestie de ultimă oră: chiar și cu o mașină reconstruită , echipajul cu numărul 99 al echipei Dempsey-Proton Racing nu va concursa în cursa de sâmbătă spre duminică, deoarece pilotul Tracey Krohn , din cauza accidentului pe care l- a suferit miercuri din cauza unei explozii de pneu, nu a primit OK-ul de la medici pentru a concura în cursă.
Grila de start
1. No 7 Toyota Gazoo Racing (Kobayashi/Conway/Lopez), 3:15.497s (LPM1)
2. No 8 Toyota Gazoo Racing (Nakajima/Buemi/Alonso), +0.411s (LPM1)
3. No 17 SMP Racing (Sarrazin/Orudzhev/Sirotkin), +0.662s (LPM1)
4. No 3 Rebellion Racing (Laurent/Berthon/Menezes), +0.907s (LPM1)
5. No 11 SMP Racing (Petrov/Aleshin/Vandoorne), +1.168s (LPM1)
6. No 1 Rebellion Racing (Jani/Lotterer/Senna), +1.313s (LPM1)
7. No 10 DragonSpeed (Hedman/Hanley/Van der Zande), +4.703s (LPM1)
8. No 4 ByKolles Racing Team (Dillmann/Webb/Ruberti), +7.612s (LPM1)
9. No 28 TDS Racing (Perrodo/Vaxiviere/Duval), +9.848s (LPM2)
10. No 31 DragonSpeed (Gonzalez/Maldonado/Davidson), +10.170s (LPM2)
11. No 36 Signatech Alpine Matmut (Lapierre/Negrao/Thiriet), +10.377s (LPM2)
12. No 48 IDEC Sport (Lafargue/Chatin/Rojas), +10.514s (LPM2)
13. No 26 G-Drive Racing (Rusinov/Van Uitert/Vergne), +10.760s (LPM2)
14. No 22 United Autosport (Hason/Albuquerque/Di Resta), +11.046s (LPM2)
15. No 38 Jackie Chan DC Racing (Tung/Richelmi/Aubry), +11.324s (LPM2)
16. No 29 Racing Team Nederland (Van Eerd/ Van der Garde/De Vries), +11.610s (LPM2)
17. No 32 United Autosports (Cullen/Brundle/Owen), +12.012s (LPM2)
18. No 20 High Class Racing (Fjordbach/Andersen/Beche), +12.113s (LPM2)
19. No 23 Panis Barthez Competition (Binder/Canal/Stevens), +12.293s (LPM2)
20. No 37 Jackie Chan DC Racing (Heinemeier Hansson/King/Taylor), +12.552s (LMP2)
GTE Pro
1. No 95 Aston Martin Racing (Thiim/Sorensen/Turner), 3:48.000s
2. No 67 Ford Chip Ganassi Team UK (Priaulx.Tincknell/Bomarito), +0.830s
3. No 63 Corvette Racing (Magnussen/Garcia/Rockenfeller), +0,907s
4. No 93 Porsche GT Team (Pilet/Bamber/Tandy), +1.108s
5. No 82 BMW Team MTEK (Farfus/Felix Da Costa/Krohn), +1.116s
6. No 68 Ford Chip Ganassi Team USA (Hand/Muller/Bourdais), +1.196s
7. No 92 Porsche GT Team (Christensen/Estre/Vanthoor), +1.391s
8. No 71 AF Crose (Rigon/Bird/Molina), +1.511s
9. No 66 Ford Chip Ganassi Team UK (Mucke/Pla/Johnson), +1.546s
10. No 69 Ford Chip Ganassi Team USA (Briscoe/Westbrook/Dixon) +1.573s
GTE Am
1. No 88 Dempsey-Proton Racing (Hoshino/Roda/Cairoli), 3:51.439s
2. No 77 Dempsey-Proton Racing (Campbell/Ried/Andlauer), +0.206s
3. No 86 Gulf Racing (Wainwright/Barker/Preining), +0.505s
4. No 84 JMW Motorsport (Segal/Baptista/Lu), +0.984s
5. No 78 Proton Competition (Prette/Prette/Abril) +0.995s
6. No 56 Team Project 1 (Bergmeister/Lindsey/Perfetti), +1.696s
7. No 54 Spirit of Race (Flohr/Castellacci/Fisichella), +2.456s
8. No 57 Car Guy Racing (Kimura/Cozzolino/Ledogar) +4.389s
9. No 85 Keating Motorsports (Keating/Bleekemolen/Fraga) +3.407s
10. No 60 Kessel Racing (Schiavoni/Pianezzola/Piccini) +3.443s
PHOTOCREDIT: Motorsport.com
---
Nu pierdeti ultimele stiri din lumea uimitoare a motorsportului cu aplicatie GP24.
Don't miss out on the latest news from the world of Motorsports with the GP24 App.
Cu noua aplicatie GP24 primiti ultimele stiri direct pe dispozitivul mobil, 100% gratuit / Nu este necesara inregistrarea.
With the New GP24 App you receive the latest news direct on your mobile device, 100% free / No need to register.
Pentru/For Android:
Faceti clic aici / Click here.
Pentru/For iOS:
Faceti clic aici / Click here.