La finalul saptamanii trecute a avut loc la Sofia Congresul European BMU si Ceremonia de Premiere a Campionilor Europeni BMU din sezonul competitional 2018.
Romania a fost singura natiune care a urcat pe podium la toate cele cinci intreceri pe natiuni: Extrem Enduro, Locul I, Moto Classic – Locul I, Viteza – Locul II, Motocros – Locul II si Supermoto – Locul III.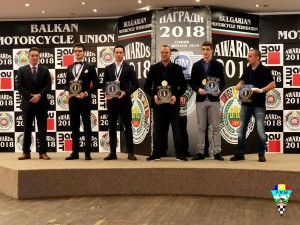 La Viteza, Româniasi-a adjudecat trei clase din cinci, inclusiv clasa regina: Robert Muresan – Superbike, Ionel Pascota – Supersport si Vlad Neaga – F600. Ionel Pascota este in plus si Campionul Bulgariei la clasa Supersport; iar Robert Muresan este si el castigator al locului III in Campionatul Bulgariei de Viteza – clasa Superbike.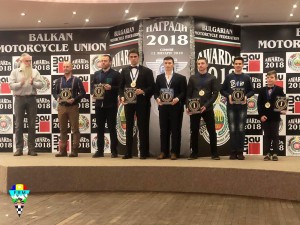 La Motocros, cea mai importanta clasa, MX1, a fost castigata de Valentin Adrian Raduta. Tot pe locul I la Motocros a urcat si Zoltan Ordog – care este astfel Campion European BMU la  clasa MX65. Valentin Adrian Raduta este in plus si Campionul Bulgariei la Clasa MX1.
Laurentiu Ciurescu a fost desemnat Campionul Bulgariei la clasa Scutere, iar Adrian Rus castigator al locului III la clasa F1000 (Campionatul de Viteza al Bulgariei).
In cadrul Congresului au fost votate si stabilite regulamentele si calendarul competitional pentru sezonul European BMU 2019.
In urmatoarele zile vom publica pe site-ul Federatiei Române de Motociclism Calendarul Provizoriu 2019.
---
Nu pierdeti ultimele stiri din lumea uimitoare a motorsportului cu aplicatie GP24.
Don't miss out on the latest news from the world of Motorsports with the GP24 App.
Cu noua aplicatie GP24 primiti ultimele stiri direct pe dispozitivul mobil, 100% gratuit / Nu este necesara inregistrarea.
With the New GP24 App you receive the latest news direct on your mobile device, 100% free / No need to register.
Pentru/For Android:
Faceti clic aici / Click here.
Pentru/For iOS:
Faceti clic aici / Click here.