Lewis Hamilton took his 86th carrer pole at the French Grand Prix, edging out Valterri Bottas by nearly 2 tenths of a second and Ferrari Driver Charles Leclerc by a little more than 5 tenths of a second.
Hamilton reacted to his pole : "It's not an easy track. It's quite technical. Valtteri has been quick all weekend. My last two laps were the one. I am happy I got the potential out of the car. The wind has been picking up so you have to be quite dynamic with how you attack the lap. We have just been working really hard on the engineering side. Overall, great teamwork. "
His teammate, Bottas, in second, reacted : "Lewis had a really good lap on the end. It's all about fine details. The wind changed into the opposite direction; there was a couple of corners my line didn't work. As a team it's good. It's been a really strong package we've had this weekend. It's a nice long run into turn one so hopefully something I can do there."
Charles Leclerc, in third, said : "Pretty happy with my lap, unfortunately today it was not enough. Today I think it's the best we could have done. A good start will be very important, we are quite strong in the straights, they are quite strong in the corners." Also, Hamilton comes over and says "I'm looking forward to a race with this one," putting his arm around Leclerc.
His team mate Sebastian Vettel struggled, failing to set a lap time on his first run after losing momentum and only managing a distant seventh on his second.
McLaren delivered their best qualifying performance in years, with Lando Norris ahead of Carlos Sainz, 5th and 6th the duo looking quick on both the soft and medium tyres throughout the whole session. This is McLaren's best qualifying performance since Jenson Button qualified in fifth in Austria in 2016.
Lando Norris reacts to his best qualifying in F1 so far : "I think as a team result we have done very well. We are ahead of who we need to be and who we are probably going to be racing tomorrow. We come into here thinking that some of the corners are a bit like China, where we were pretty average. It's turned out to be better than we ever would have expected. Tomorrow is going to be a tougher job. We were very quick in FP1, which was kind of worrying for us because it was too good almost…everyone else must be high on fuel or whatever. I think we can go into Austria and we might not be in Q3 so it's very track specific. It's what we need to look into."
Daniel Ricciardo gave Renault, in their home race, a top 10 start with eighth, ahead of Red Bull's Pierre Gasly and Alfa Romeo's Antonio Giovinazzi.
The biggest surpirse of the day came from Romain Grosjean, who has struggled all weekend in front of his home crowd. The Haas driver made a mistake at the Turn 8/9 sequence which meant he had to back out of his lap, having set a personal best in the first sector.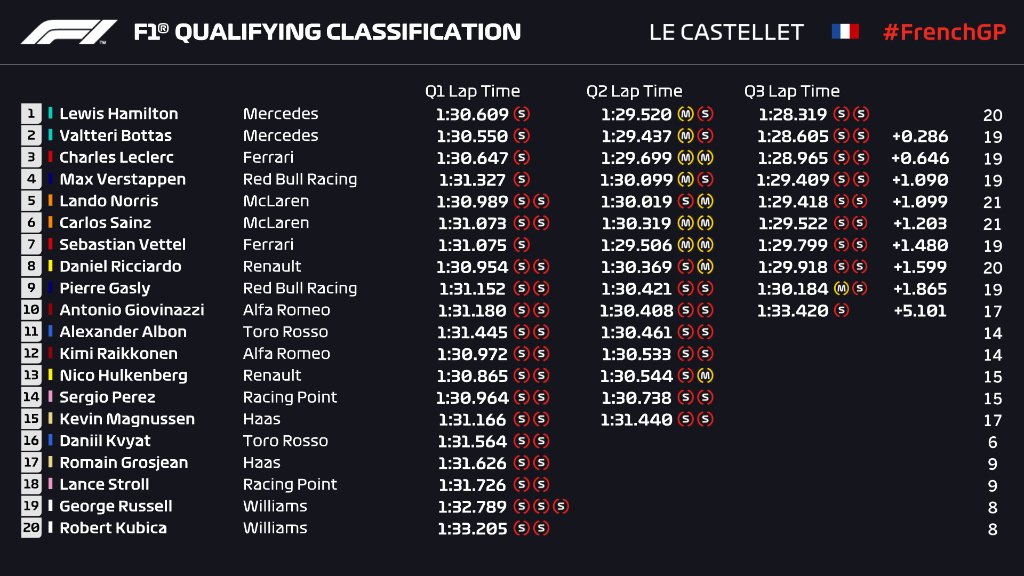 Photocredit : F1, Mercedes AMG Petronas, Scuderia Ferrari
---
Nu pierdeti ultimele stiri din lumea uimitoare a motorsportului cu aplicatie GP24.
Don't miss out on the latest news from the world of Motorsports with the GP24 App.
Cu noua aplicatie GP24 primiti ultimele stiri direct pe dispozitivul mobil, 100% gratuit / Nu este necesara inregistrarea.
With the New GP24 App you receive the latest news direct on your mobile device, 100% free / No need to register.
Pentru/For Android:
Faceti clic aici / Click here.
Pentru/For iOS:
Faceti clic aici / Click here.