Max Verstappen( Aston Martin Red Bull Racing Honda), plecat din pole position a castigat Marele Premiu al Braziliei, o cursa in care a trebuit sa il depaseasca pe Lewis Hamilton de doua ori.Insa cel mai tensionat moment al cursei nu a fost acesta, ci marele acident dintre cei doi piloti Ferrari, in duelul pentru locul al patrulea.
"Lewis a fost foarte rapid si a trebuit sa trag tare mereu.. am avut doua depasiri bune, iar din acel moment, am putut controla cursa!" a declarat Verstappen, dupa primul pole convertit in victorie.
Charles Leclerc(Scuderia Ferrari) l-a depasit pe coechipierul sau , Sebastian Vettel, in virajul 1, cu 5 tururi ramase. Vettel insa a avut tractiune mai buna la iesirea din S-ul Senna si era umar la umar cu monegascul pe linia dreapta, pana cand cei doi au facut contact, Leclerc rupandu-si suspensia dreapta-fata, iar germanul alegandu-se cu cauciucul stanga-spate spart, acest lucru fortand un dublu abandon al italienilor.
Aceasta coliziune a provocat cel de-al doilea Safety Car cu doar cateva tururi ramase in cursa.Primul fusese cauzat datorita faptului ca finlandezului Valterri Bottas i-a cedat motorul in timp ce incerca sa il depaseasca pe Leclerc.
Verstappen era sub presiunea lui Hamilton inainte ca Red Bull sa ia decizia curajoasa de a-i schimba pneurile, costandu-l pozitia de lider, insa revenind cu pneuri Soft noi. Strategia a fost una minunata, Verstappen intrecandu-l pe Hamilton imediat dupa restart si redevenind lider.
Hamilton era sub presiunea lui Albon,insa acesta a intrat la boxe, depasindu-l pe Gasly dupa restart si chiar facand un contact cu Thailandezul, rasucindu-l in penultimul tur in cel de-al doilea sector al circuitului. Gasly a trecut inapoi si a reusit sa se mentina pana la final pe locul al doilea, avand chiar un "photo finish" cu britanicul, care a terminat al treilea.
LAP 71/71

Gasly and Hamilton drag race to the line, but it's the Toro Rosso that holds on to P2 ?#BrazilGP ?? #F1 pic.twitter.com/ZRgMCh0cvs

— Formula 1 (@F1) November 17, 2019
"Este primul meu podium, nu-l voi uita niciodata. Torro Rosso mi-a dat o masina minunata. Sunt foarte fericit, este o zi superba!" i-a declarat francezul lui Rubens Barichello.
Carlos Sainz JR a terminat al patrulea dupa ce a plecat ultimul , urmat de pilotii Alfa Romeo Raikkonen si Giovinazzi. Daniel Ricciardo a terminat pe 7, fiind penalizat mai devreme in cursa cu 5 secunde pentru ca l-a rasucit pe Magnussen, acesta fiind urmat de Norris, Perez si Kvyat, completand topul 10.
UPDATE: Este primul podium din cariera si pentru Carlos Sainz care a fost avansat pe locul 3, Hamilton primind o penalizare de 5 secunde.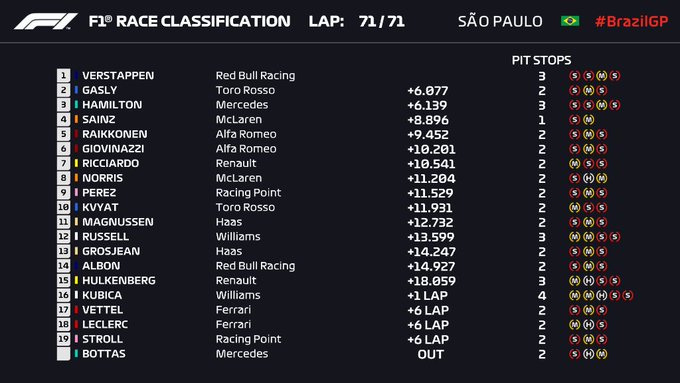 Sursa: Fabian Zarva, GP24 Author
Photocredit: RaceFans, Red Bull Racing Content Pool, F1
Nu pierdeti ultimele stiri din lumea uimitoare a motorsportului cu aplicatie GP24.
Don't miss out on the latest news from the world of Motorsports with the GP24 App.
Cu noua aplicatie GP24 primiti ultimele stiri direct pe dispozitivul mobil, 100% gratuit / Nu este necesara inregistrarea.
With the New GP24 App you receive the latest news direct on your mobile device, 100% free / No need to register.
Pentru/For Android: Faceti clic aici / Click here.
Pentru/For iOS: Faceti clic aici / Click here.
Latest posts by Amber van Nunen
(see all)